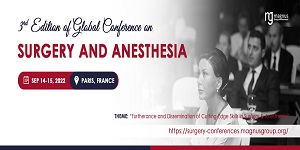 3rd Edition of Global Conference on Surgery and Anesthesia
6
6 people viewed this event.
We take immense pleasure and honour in welcoming you to our prestigious annual event "3rd Edition of Global Conference on Surgery and Anaesthesia." (GCSA 2022) which is scheduled as a hybrid even with online and face to face attendance options at Paris, France from September 14-15, 2022.
The congress proceedings will be on the theme "Furtherance and Dissemination of Cutting-Edge Skills in Surgery & Anaesthesia."
GCSA has been a focal point for disseminating knowledge to those of us who have a thirst to learn. Every year, GCSA contributes to the field of Surgery and Anaesthesia by bringing together the world's top scientists, highly cited researchers, academicians, educators, healthcare experts, surgeons, anaesthesiologists, eminent personalities, and industry leaders under one roof to discuss the most recent technological advancements and breakthroughs in the field. The congress has an agenda of establishing a comprehensive Scientific Program that will serve as a cornerstone for promoting surgical and anaesthesia advancements, as well as the most cutting-edge technologies in the field through plenary talks, keynote sessions and presentations. GCSA 2022 will provide high-quality scientific content and provide a unique opportunity to meet like-minded people from various backgrounds and establish new connections.
Upcoming Surgery Conferences: Surgery Conferences 2022 | Surgery Conference | Surgery Conference 2022 | Surgery Congress | Surgery Congress 2022 | Surgery Meetings | Surgery Events | Surgery Virtual Events | Surgery Webinars | Online Surgery Conferences | Surgery Hybrid Events | Anaesthesia Conferences | Anaesthesia Conferences 2022 | Anaesthesia Conference | Anaesthesia Conference 2022 | Anaesthesia Congress | Global Surgery Conferences | International Surgery Conferences
For Scientific Sessions PS: https://surgery-conferences.magnusgroup.org/program/scientific-sessions
For Abstract submission PS: https://surgery-conferences.magnusgroup.org/submit-abstract
For Registration PShttps://surgery-conferences.magnusgroup.org/register
Dates: September 14-15, 2022
Venue: Paris, France
For more details visit: https://surgery-conferences.magnusgroup.org/
Email:  [email protected]
Office: 1 (702) 988 2320
Whatsapp: +1 434 381 1007