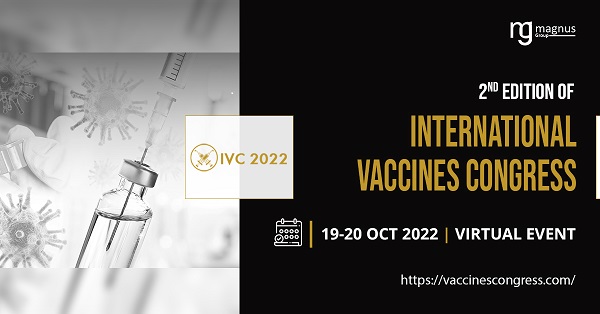 2nd Edition of International Vaccines Congress
11
11 people viewed this event.
Magnus Group invites passionate people from the vaccinology field to its prestigious event "2nd Edition of International Vaccines Congress" (IVC 2022) which will be conducted during October 19-20, 2022.
The Vaccine congress will underline the theme "Synergy to Rehabilitate Innovations in Vaccine Research and Development."
The global vaccine summit is aimed to enable the exchange of ideas across a broad range of disciplines in vaccinology by bringing together an international audience of scientists, researchers, academicians, vaccinologists, healthcare practitioners, vaccine manufacturers, pharmacists and public health officials. This scientific gathering is composed of a variety of keynote sessions, plenary talks, symposiums, workshops, oral and poster sessions aimed to deliver a comprehensive program on current topics in vaccine development, as well as a terrific opportunity to network with peers from academia and industry. IVC 2022 offers a plethora of product advancements, business prospects, and cutting-edge solutions for boosting and elevating the company's business and partnerships. Entering its 2nd year, the Vaccine Congress will serve as a wonderful networking platform for possible collaboration with people from academia and industry.
Vaccines Conferences 2022,  Vaccine Conferences , Immunology Conferences 2022,  Vaccine Research Events 2022,  Vaccine Development Congress,  Vaccines congress,  International Vaccines Conferences,  Vaccines summit 2022,  Vaccines meetings, Global Vaccines Summit,  Vaccines & Vaccination Conferences 2022,  Vaccine safety conferences,  Vaccines & Vaccination congress.